Ever since I started following sewing blogs, I have wanted to know a little more about the fabulous, creative and talented people that inspire us all. I know several blogs have done/are doing interview series, but I still had some unanswered questions, so I thought I would try hosting a small interview series myself.
First up is Jennifer from Ellison Lane Quilts. Jennifer is such an inspiration, as both a sewer and a blogger. In one year she created a blog with over 4,000 followers!

!

Despite her huge popularity and success, Jennifer is so sweet and so willing to help out newbies like myself. In fact, when I was on a mission to make an I-spy quilt for my son (having seen one on Pinterest) I discovered I just missed her last I-spy swap. I emailed her anyway about starting my own swap and boldly asked for her help in spreading the word. She did. On her blog. Just like that!!! She's awesome like that. So read on to lean more about Jennifer!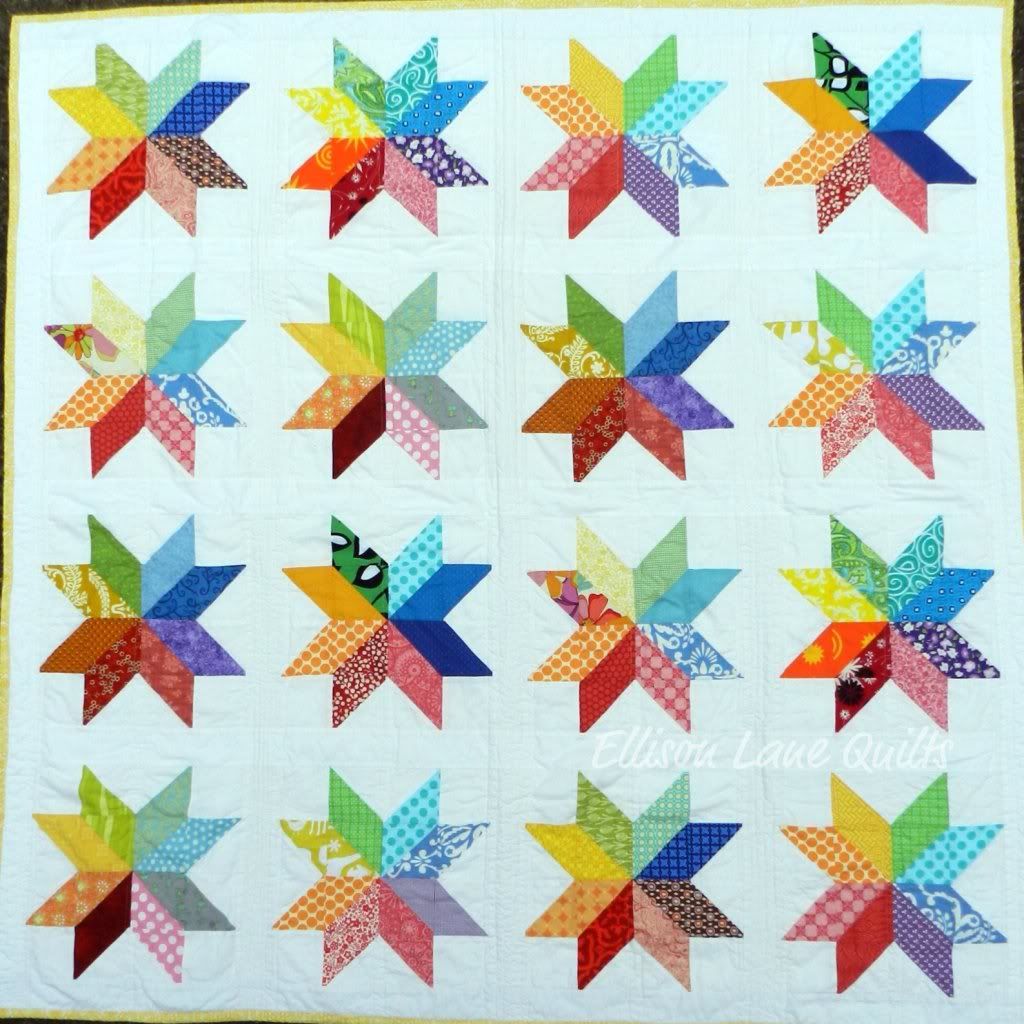 Jennifer Gorgeous Rainbow Starflower Quilt
What is the most ridiculous thing you have done in the name of quilting/sewing?
Man, this is a hard question. I'm not sure. I've stayed up WAY too late sewing which always ends up with me having to get out the seam ripper in the morning. I do love to put on my iPod and dance and sing while I'm sewing at night. I make sure to shut the blinds though so that the neighbors don't get a glimpse of the crazy sewing lady!
How much time, on average, do you devote to blogging a week? Sewing/Quilting?

Well, lately it has just been a couple of hours a week. I've decided to slow things down a bit for the summer. This spring though, I probably spent 15-20 hours a week blogging.
Jennifer Gorgeous Dresden Quilt
If you had a magical quilting/sewing assistant, what would you delegate?
Basting! It is my absolute least favorite step in the quilting process.
What is your favorite social media tool?

Pinterest. Hands down. I have Pinterest as my home page on my computer so I pop on there all day long. I am sure I will probably never revisit half of the things I've pinned but I love having them all there. Pinterest is such a beautiful way to organize and get inspired!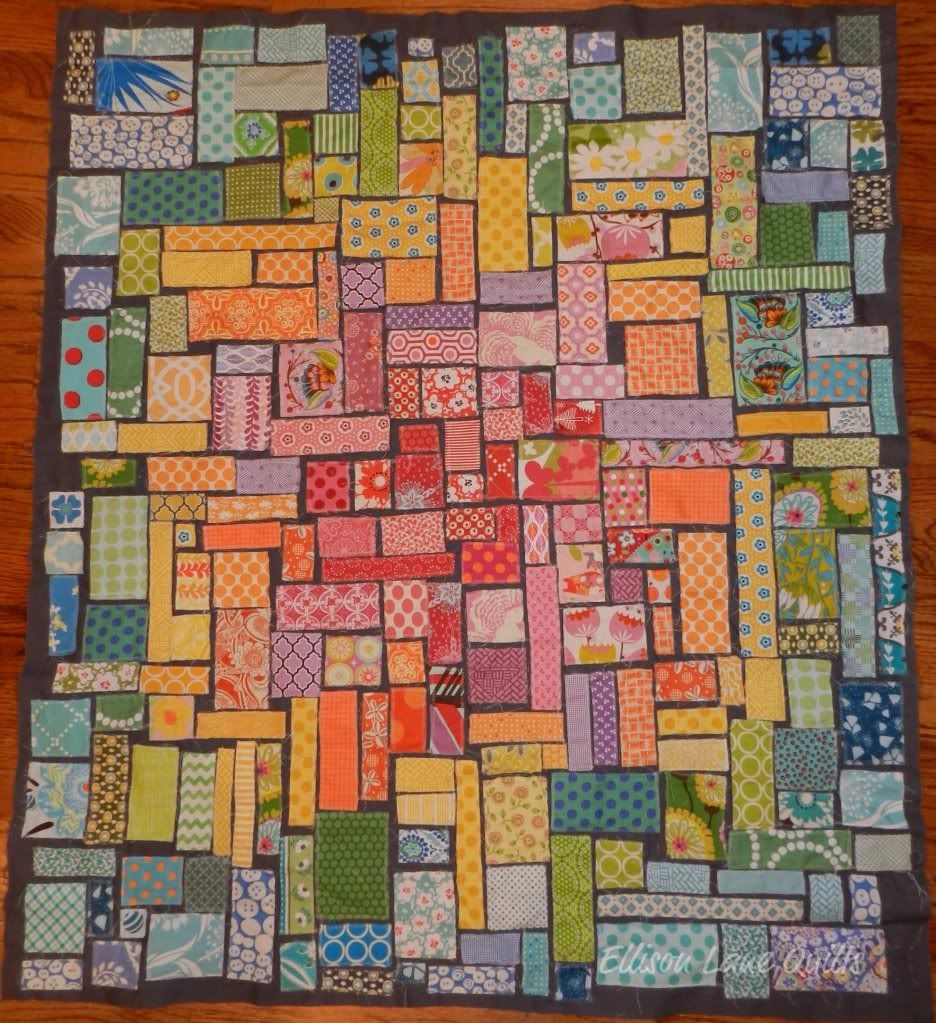 Jennifer's Beautiful Rainbow Ticker Tape
What is your favorite type of post to read on other blogs?

Short ones! :) I find I don't have much time to read all the blogs I want to so when I do sit down to catch up, short posts are much more likely to catch my attention.
What is your favorite sewing tool?

I really do love the Lapel Stick. It's so handy! I've used it for so many little things. It's great for holding small gaps together instead of pinning. I also like my Hera marker.
What is the nicest thing a reader has ever done for you?

Oh I have the BEST readers. Seriously. When I've hosted fabric swaps, several participants sent me extra fabric and gifts and thoughtful notes. Totally unnecessary, completely surprising and so nice.
Jennifer's Beautiful Scrap Happy Quilt
What is your fabric buying style?
Well, I am quite conservative when it comes to buying fabric. We don't have a modern fabric shop in Charlotte, so I always buy online. While buying online is great for the budget, I think I would buy more if I could hold the fabric in my hand. Sometimes you just don't know if you are going to love something that you just kinda like online. But when I do like fabric, I buy a half yard or more. If I really like it, I buy 2 yards. That being said, I would love to have more large cuts of fabric. A lot of what I have right now are smaller pieces.
How do you support your fabric buying habit?

I'm very thankful that my blog supports my fabric habit. Custom orders in my Etsy shop also help out.
What is one thing most people don't know about you.

I'm a breast cancer survivor. I found the lump myself, was diagnosed 2.5 years ago at 34 and chose to have a double mastecotmy. I'm cancer free and proud to be a survivor and know for a fact that early detection saves lives. Feel your boobies ladies! Know your bodies.
Finally, let's take a look at Jennifer's work space and STASH!!!!
If you want to know more about Jennifer, you can check out her blog or a prior interview over on Gen X Quilters, here. You can also follower her on twitter here. Or on Pinterest here.
THANKS JENNIFER!!